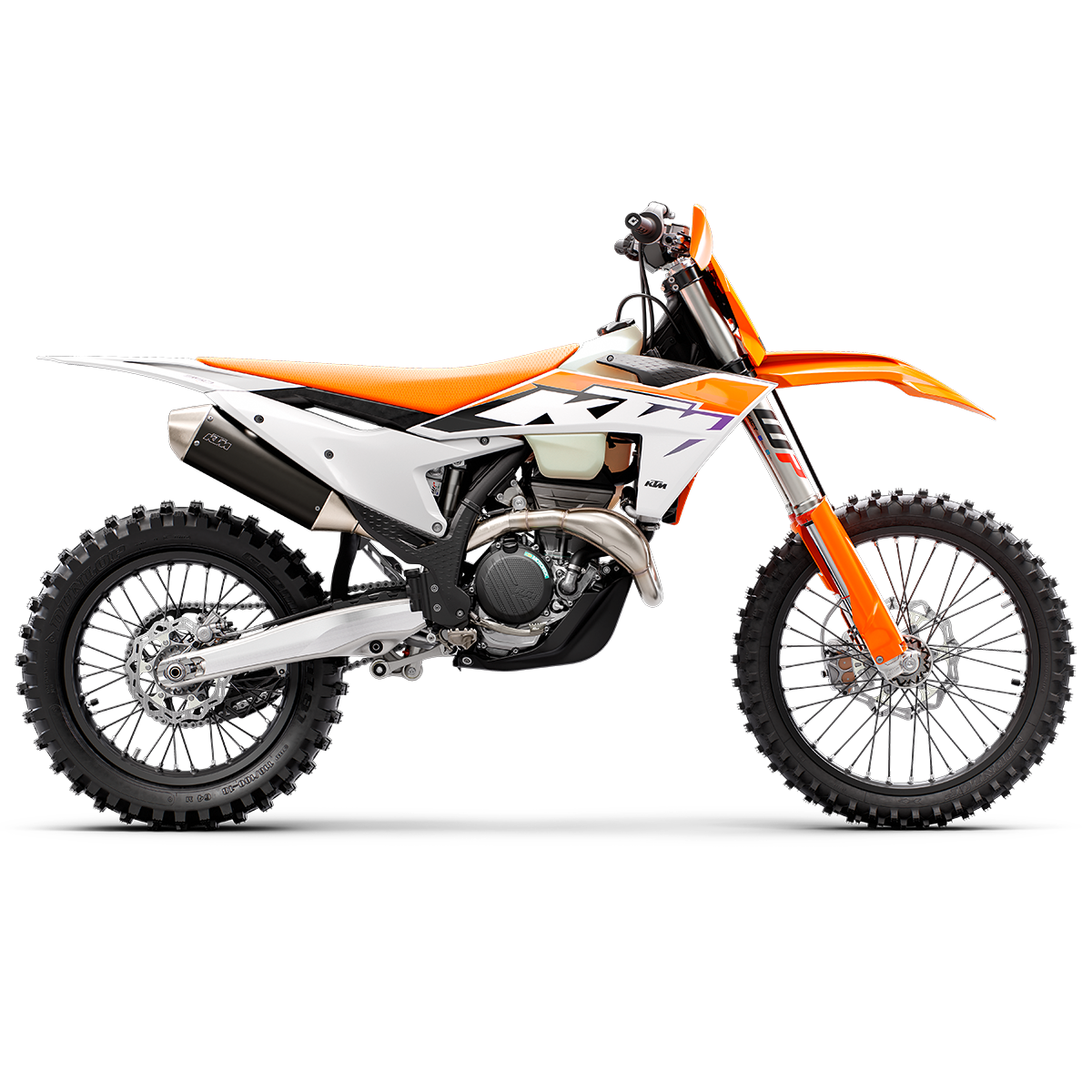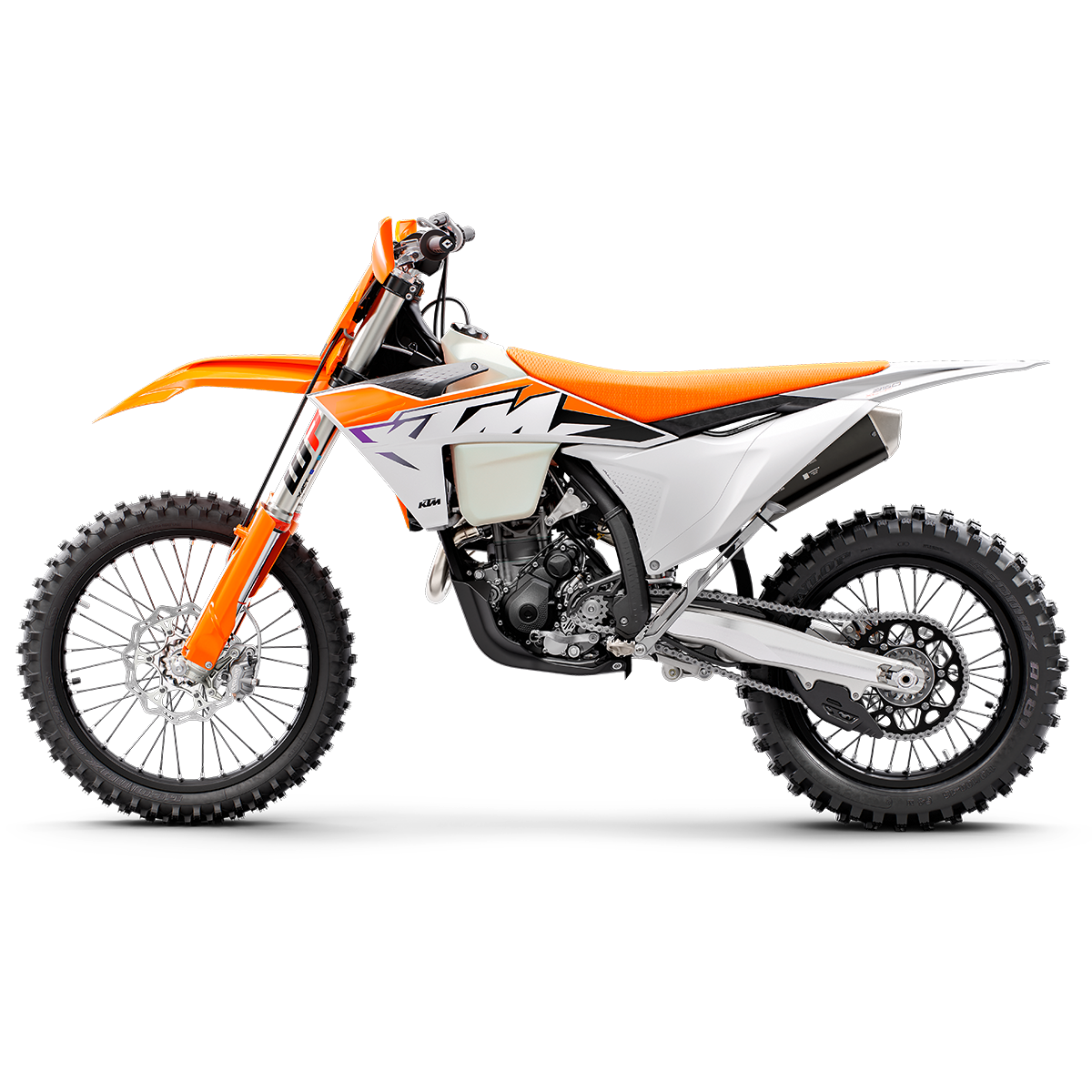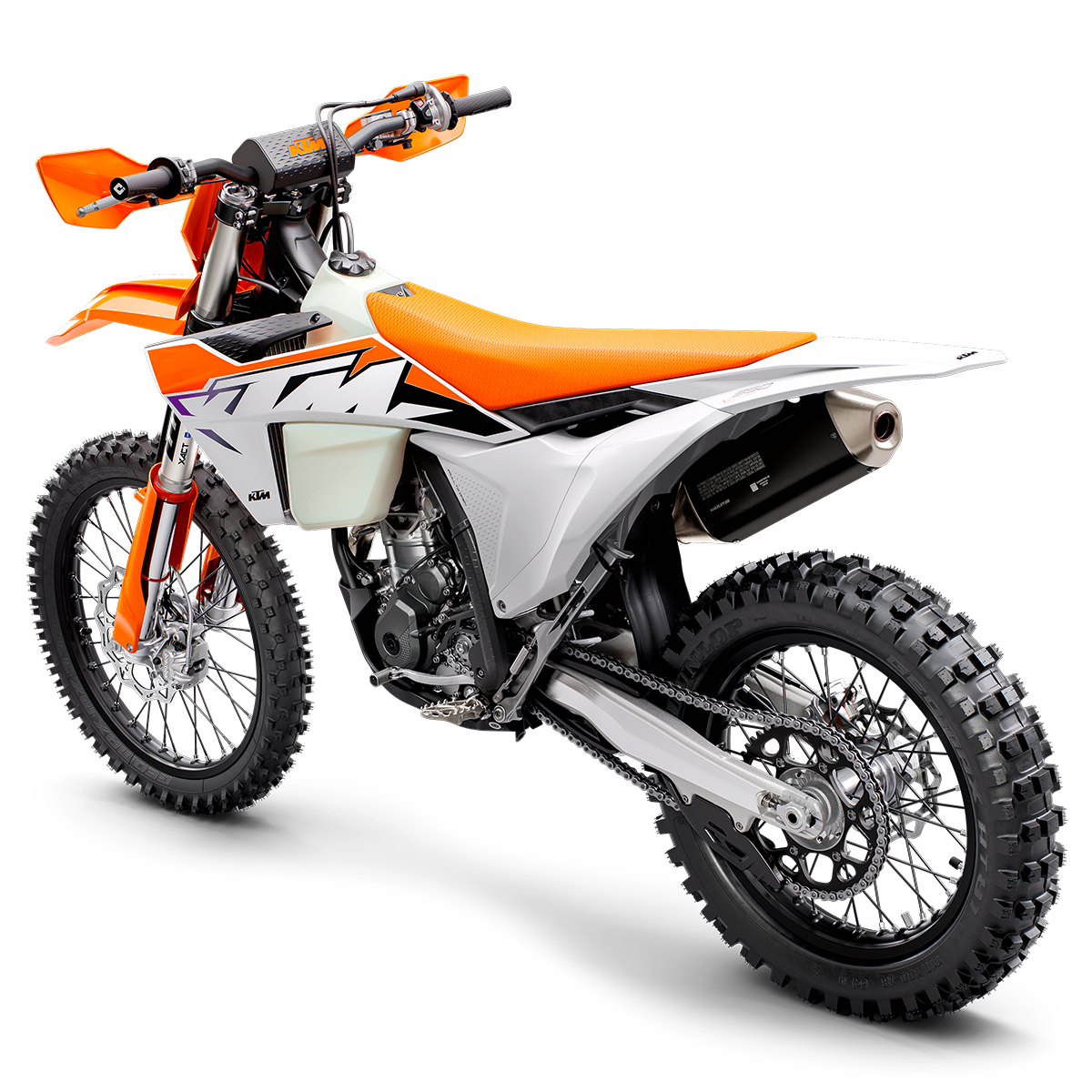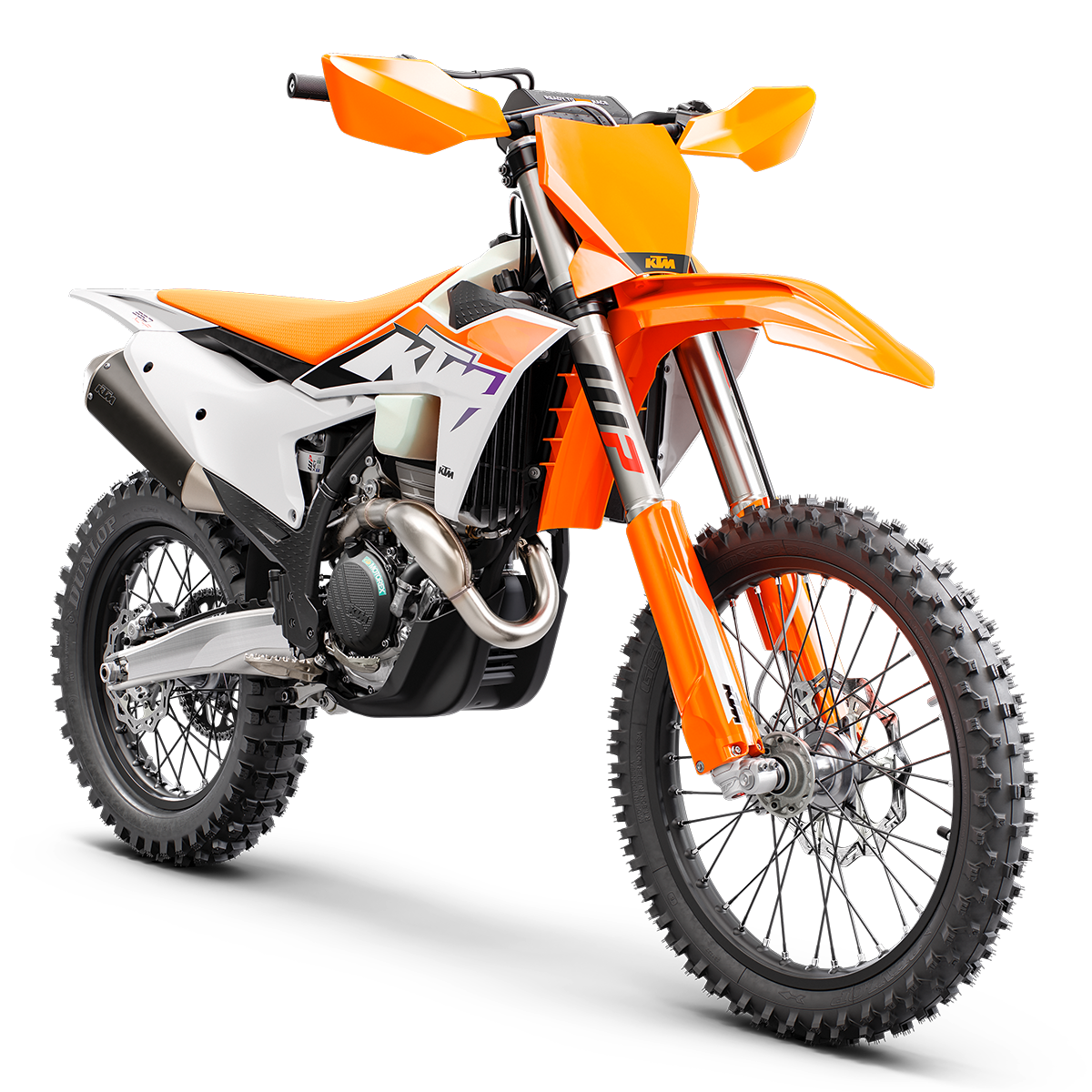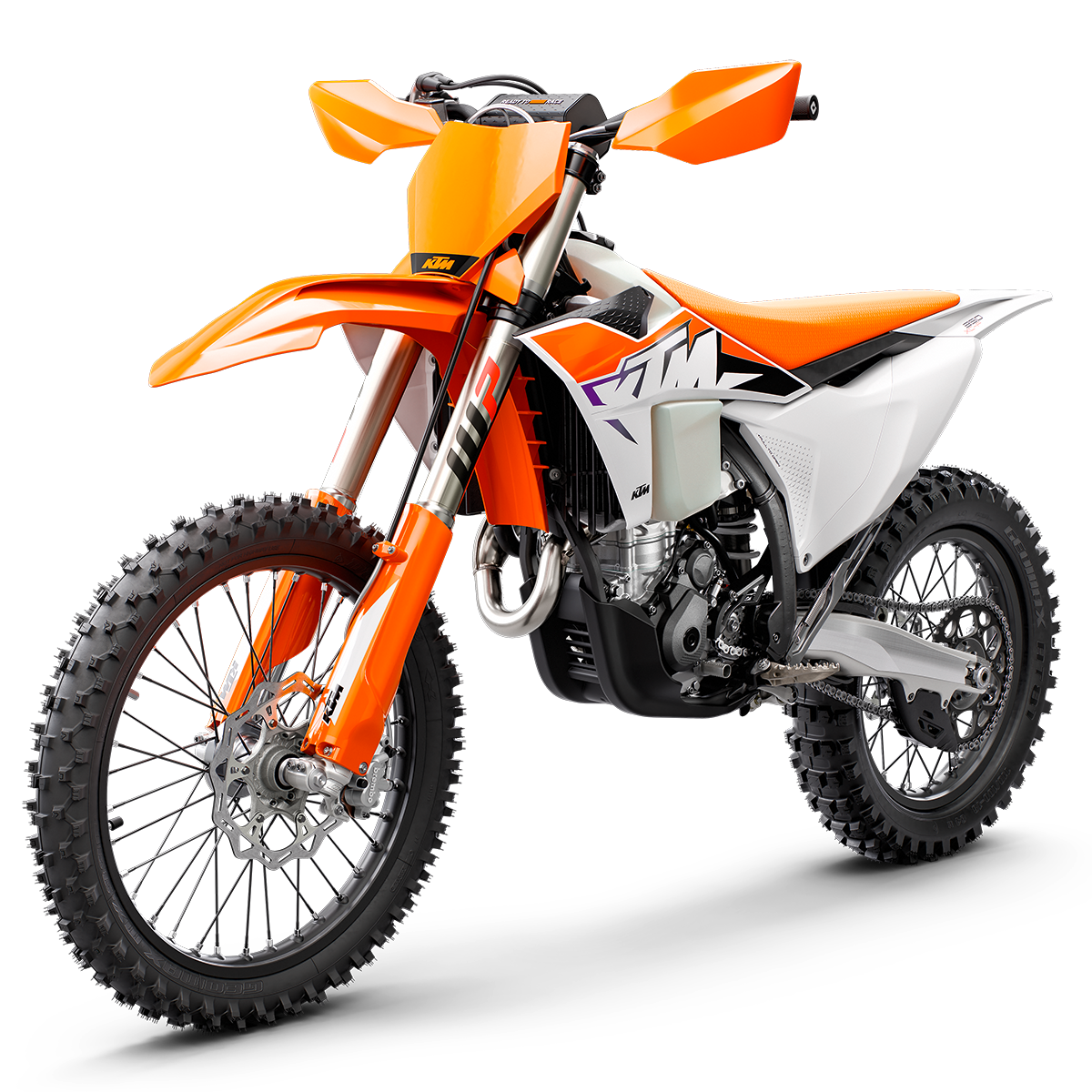 KTM 350 XC-F 2023
Sale price
From
$15,718.00
RIDE AWAY PRICE*
Looking for availability of this bike, trade-in or finance options?
Leave us a text
This brand is sold at the following dealerships:
Please contact us for availability of specific models.
*
Advertised 'Ride Away Price' includes on road costs and is subject to change. Overseas models may be shown with accessories that are not standard fitment. Fraser Motorcycles reserves the right to vary colours, specifications & pricing at any time.
MIDDLE-GROUND MAYHEM
With over a decade of racing - and winning - in cross country competitions, the KTM 350 XC-F has long shed its underdog label and proven itself a worthy adversary. Delivering usable power throughout the rev range, unwavering stability at speed, and true championship-winning credentials, the 2023 KTM 350 XC-F is once again READY TO RACE.
01. ENGINE & EXHAUST
ENGINE
Perfectly filling the gap between the KTM 250 XC-F and the powerhouse KTM 450 XC-F, the lightweight KTM 350 XC-F powerplant rules the roost in a class of its own. For 2023, the engine is tilted 2° backward with a lower sprocket position, which together with the benefits of mass centralization and reduced weight, makes the anti-squat behaviour of the chassis second to none. With 450-rivalling performance and an overall engine weight of only 60.6 lb, you'll leave the competition with more than a little mud on the face.
CYLINDER
The 88 mm bore cylinder houses a forged bridged-box-type piston made by CP. Both the cylinder and piston are professionally engineered from high-strength aluminium resulting in outstanding performance and reliability. The compression ratio is 14.6:1 which is the highest value of all KTM XC-F 4-Stroke cross country models.
CYLINDER HEAD
The fully-redesigned DOHC cylinder head features finger followers with a DLC coating resulting in minimal friction and optimal performance. These actuate large titanium valves - 36.3 mm intake and 29.1 mm exhaust - which at the 13,400-rpm rev-limit open and close multiple times each second for optimum fuel/air mixture. The new 29.1 mm exhaust valve is a result of the redesigned engine to deliver an optimized gas flow.

THROTTLE BODY
An important update across the 2023 KTM XC range is an all-new 44 mm throttle body. Taking its learnings from the KTM Factory Racing machines, the injectors are positioned in a double-injector pattern to ensure the most efficient flow into the combustion chamber, while the throttle cable is mounted directly without a throttle linkage providing smoother, uninhibited throttle action. This all adds up to cleaner, smoother fuel ignition, and more power without the fuss.
CRANKSHAFT
Designed with weight reduction and performance in mind, the crankshaft in the KTM 350 XC-F engine improves throttle response and contributes to the lightweight feel of the motorcycle. The perfect balance of rotating masses is achieved by balancing the weights of the crankshaft flywheel, the new rotor, and thanks to the innovative counter balancer shaft, engine vibration is kept to an absolute minimum.
CRANKCASES
The KTM 350 XC-F engine is designed with mass centralization and weight reduction as the main criteria. As a result, the crankcases have been designed to house the internal components of the engine in the perfect position to achieve an ideal centre of gravity, while adding the least possible weight. The casings are manufactured using a high-pressure die-cast production process, resulting in thinner but more reliable wall thickness. And just to add a little extra - the KTM brand logo gives the black powder-coated engine cover the ultimate READY TO RACE look.
EXHAUST
The KTM XC-F exhaust systems are expertly designed to deliver class-leading performance at the lowest possible weight. Featuring a flow-designed resonance chamber integrated into the 2-piece header pipe, the header pipe remains as compact as possible with the joining position allowing it to be removed without having to take out the rear shock. Further innovation allows for a short, lightweight aluminium silencer without increasing noise levels.
DS CLUTCH
The KTM 350 XC-F features a DS (Diaphragm Steel) clutch, which includes a single-diaphragm steel pressure plate instead of traditional coil springs. The clutch basket is a single-piece CNC-machined steel component, which has been revised to accommodate the new gearbox in 2023, and continues to allow the use of thin steel liners that contribute to the compact design of the engine.
02. CHASSIS
FRAME
No matter how gnarly the trail is, you'll stay in complete control thanks to an all-new frame design that has not only been engineered for longitudinal rigidity, but also repositions rotating mass closer to the centre of gravity. Thicker frame walls also improve reliability, flex characteristics and offer unmatched rider feel. A new shock mounting also provides improved anti-squat behaviour for better traction out of corners, while the footpeg mounting position has moved inwards for less risk of hooking up on roots or rocks. Additionally, the inclusion of forged brackets on the lower frame rails allows for easy installation of the skid plate.
POLYAMIDE-REINFORCED ALUMINIUM SUBFRAME
Weighing in at only 4 lb, the new 2-piece polyamide (60%) reinforced aluminium (40%) subframe provides impressive weight savings. With the help of computational dynamics, carefully calculated rigidity was engineered into the subframe, delivering outstanding handling and feedback, while remaining robust and reliable.
WHEELS & TIRES
These don't only look the part - they play it too! High-strength, lightweight black alloy rims by GIANT are coupled to CNC machined hubs using lightweight spokes and silver anodised aluminium nipples. The spoke nipples incorporate a revised design reducing the frequency of spoke checks and maintenance. A Dunlop GEOMAX MX-33F takes care of business at the front, with a GEOMAX AT81 completing the package.
FOOTRESTS
All-new, CFD designed footrests offer a bigger contact area for better control of the bike while standing on the pegs, but also makes them less susceptible to hooking up on deep trail ruts, logs and rocks . This was achieved by a new, narrower frame mounting design, which also helps reduce overall weight.
SWINGARM
A new hollow, die-cast aluminium swingarm is designed to offer optimal stiffness and reliability at the lowest possible weight. The topology has been optimized for rigidity, while an improved casting process reduces weight by approximately 190 g. A new 22 mm rear axle has also been fitted to match the new flex characteristics of the chassis. This, along with a new chain guard and chain gliders result in improved durability and less chance of hooking on boots or external objects out on the trail, as well as reduce dirt build up around the swingarm and chain guard.
AIRBOX
The airbox is designed with precisely positioned inlet ducts aimed at preventing air deformation ensuring maximum airflow and maximum filter protection. The air filter is easily accessed, without tools, by removing the left side panel. Easy maintenance is guaranteed by the Twin Air filter and filter cage design that features a simple fail proof mounting system for safe and accurate filter installation.
03. ERGONOMICS & COMFORT
WP XACT FRONT SUSPENSION
48 mm air type WP XACT front fork with a split damping function provides all the confidence you need to attack the trails. New hydrostops in the fork legs improve bottoming-out resistance and account for less rebound when attacking big bumps while hauling across country. Redesigned fork protection rings also increase protection against dirt, making them as reliable as they are awesome.
WP XACT REAR SUSPENSION
An all-new rear shock design results in a reduction of overall length and less weight compared to the previous generation while keeping the suspension travel at 300 mm. Adjustability is now taken care of by a hand-adjustable dual compression control knob, that allows quick adjustment of high- and low-speed settings without tools. This, together with the newly designed rebound and preload adjusters, allows riders to adjust their shock settings without tools and without the help of a technician in the pits.
HYDRAULIC CLUTCH
The high-performance Brembo hydraulic clutch system guarantees even wear, near maintenance-free operation and perfect modulation in every condition. Meaning that play is constantly compensated so that the pressure point, and function of the clutch remain identical in cold or hot conditions, as well as over time. Countless hours of race focused testing have proven the high-quality, Italian-made Brembo hydraulic systems exceptional reliability.
NEKEN HANDLEBAR
All KTM XC and XC-F models are equipped with a tapered handlebar made of high-strength aluminium by NEKEN. The proprietary KTM bend delivers optimal control and unintended rider impacts are absorbed by the newly designed KTM branded bar pad, which features the same design patterns as seen on the frame protectors and tank spoilers - now that's a touch of class.
04. BODYWORK & GRAPHICS
FUNCTIONAL BODYWORK
The 2023 KTM XC and XC-F range feature an entirely new and improved rider triangle, providing improved knee contact - especially when standing on the pegs - with improved gripping surfaces all around. New plastics work to expel mud build-up in wet, muddy conditions, with a new, flatter seat profile and high-grip orange seat cover providing exceptional rider movement and control. A handy grip pocket under the seat, just above the airbox, makes gripping the bike and lifting it much easier. In terms of graphics, the 2023 KTM XC and XC-F design takes its cue from the early 1990s when purple was one of KTM's predominant colours.
FUEL TANK
A new 2.24 gallon polythene fuel tank incorporates a threaded filler cap and an integrated fuel pump. The fuel pump features an external fuel line which is specifically positioned to make it less exposed and susceptible to damage, while ensuring a steady, uninterrupted flow of fuel.
05. TECHNOLOGY
MAP SELECT SWITCH
The 2023 KTM 350 XC-F features a map select switch as standard, allowing the racer to switch between 2 perceptible engine maps. Map 1 provides a linear, predictable power delivery, while Map 2 gives it the full beans with crisp, explosive power output. Using the same switchgear, the rider can toggle between Traction Control and Launch Control. and the Quickshifter functions.
TRACTION CONTROL
Grip, rip and go! Traction control is selected to an on or off position from the switch and functions by analysing throttle input from the rider and the rate at which RPM increases in the engine. If the RPM increases too quickly, the EMS registers a loss of grip and reduces the amount of power to the rear wheel ensuring maximum traction. This provides a distinct advantage in wet or muddy conditions.
LAUNCH CONTROL
Rocketing off the line and into the holeshot is made even easier with Launch Control. With the engine at idle, launch control is engaged by pressing the bottom two buttons simultaneously. This function limits the amount of power to the rear wheel of take off, improving traction and preventing wheelspin under hard acceleration.

START/STOP SWITCH
A new, combined start/stop switch on the right side of the handlebar allows for an easy and intuitive function - not that you'll want to turn your 2023 XC-F off.
ENGINE MANAGEMENT SYSTEM (EMS)
Developed by Keihin, the EMS is specifically designed to be small, light, and lightning-fast at processing data. It integrates the Launch Control for perfect starts, selectable engine maps via the map select switch on the handlebar, Traction control as well as the Quickshift function. It is also combined with the gear sensor, which optimizes power delivery for each gear, while a rollover sensor (ROS) kills the engine in case of extreme crashes, adding an important safety feature to the new generation of XC and XC-F models. A new hour meter now also comes with an integrated FI status LED and a fuel level indicator.
TECH SPECS
ENGINE
TRANSMISSION

6-speed

STARTER

Electric starter

STROKE

57.5

mm

BORE

88

mm

CLUTCH

Wet, DDS multi-disc clutch, Brembo hydraulics

DISPLACEMENT

349.7

cmÎ?

EMS

Keihin EMS

DESIGN

1-cylinder, 4-stroke engine
CHASSIS
| | |
| --- | --- |
| WEIGHT (WITHOUT FUEL) | 102.5 kg |
| TANK CAPACITY (APPROX.) | 8.5 l |
| FRONT BRAKE DISC DIAMETER | 260 mm |
| REAR BRAKE DISC DIAMETER | 220 mm |
| FRONT BRAKE | Disc brake |
| REAR BRAKE | Disc brake |
| CHAIN | X-Ring 5/8 x 1/4" |
| FRAME DESIGN | Central double-cradle-type 25CrMo4 steel |
| FRONT SUSPENSION | WP XACT-USD, '… 48 mm |
| GROUND CLEARANCE | 343 mm |
| REAR SUSPENSION | WP XACT Monoshock with linkage |
| SEAT HEIGHT | 954 mm |
| SUSPENSION TRAVEL (FRONT) | 310 mm |
| SUSPENSION TRAVEL (REAR) | 300 mm |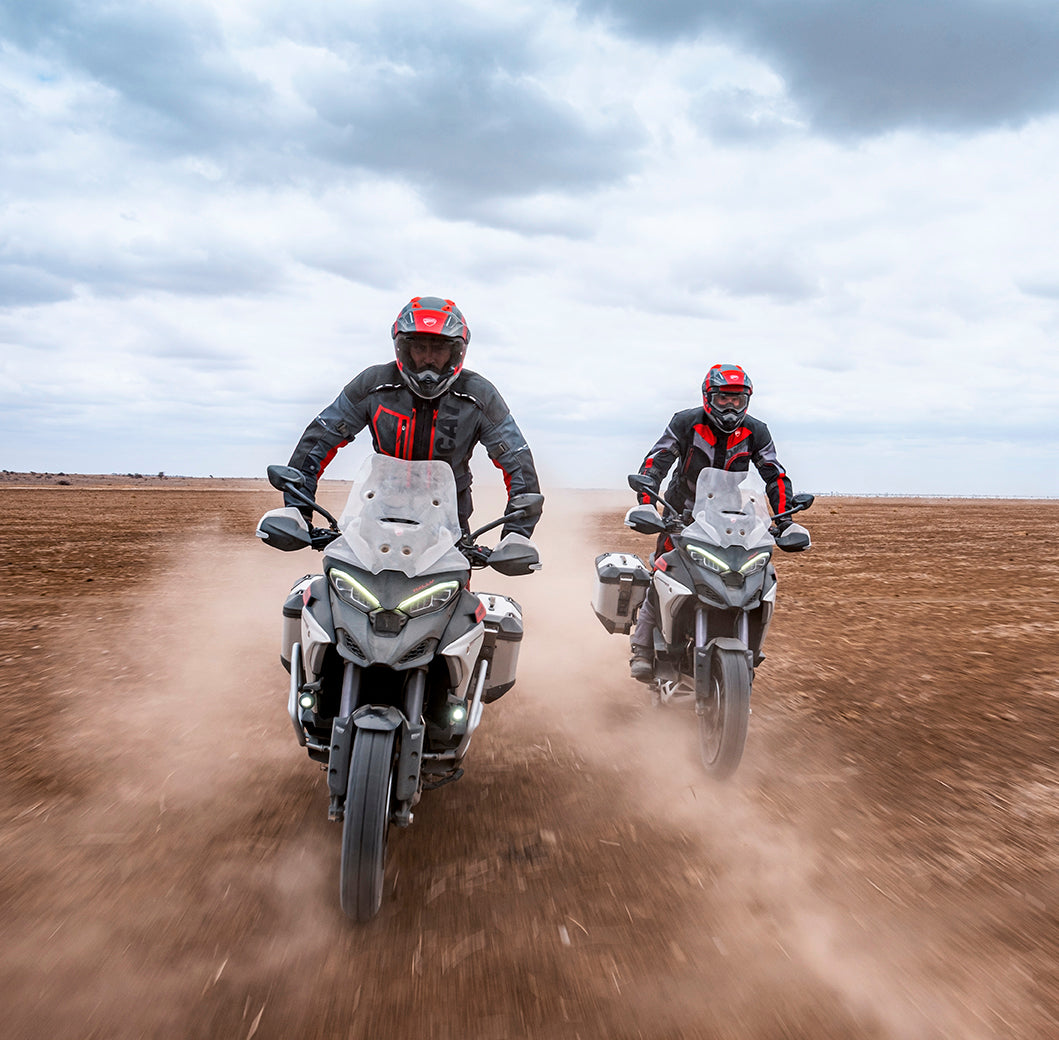 NEED SOME ASSISTANCE?
Cant find what you're looking for?
Lets us know and we can provide you with all the details