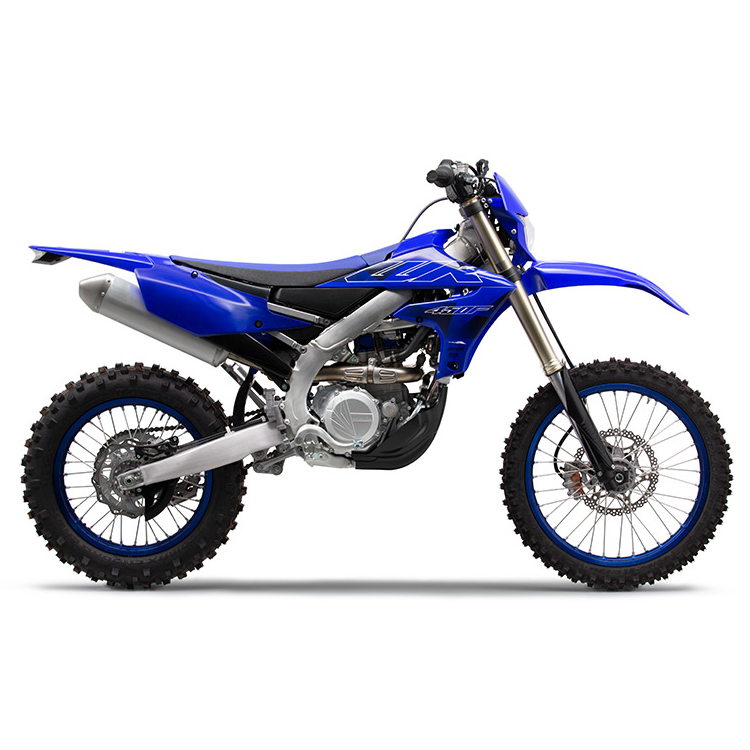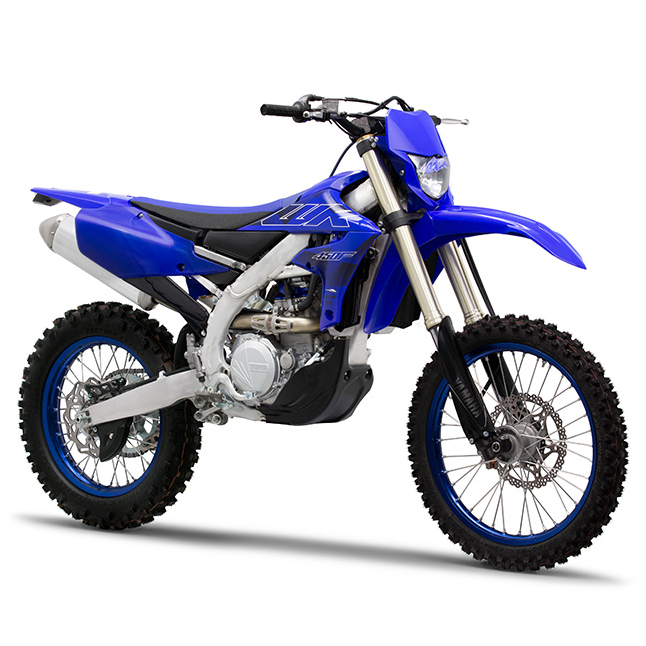 YAMAHA WR450F
Sale price
Now
$16,895.00
Regular price
RIDE AWAY PRICE*
Looking for availability of this bike, trade-in or finance options?
Leave us a text
This brand is sold at the following dealerships:
Please contact us for availability of specific models.
*
Advertised 'Ride Away Price' includes on road costs and is subject to change. Overseas models may be shown with accessories that are not standard fitment. Fraser Motorcycles reserves the right to vary colours, specifications & pricing at any time.
BORN TO RIDE
Using the YZ450F as a starting point, our experienced development team - including Kiwi race team manager and Yamaha legend Josh Coppins - came up with an enduro weapon that turns, stops and goes better than ever before. The WR450F produces bulk power but transmits that power to the ground in a more controllable manner with additional traction at both wheels.

Sporting a new aluminium bilateral beam frame, the WR450F feels lighter, is easier to turn in tight situations and has improved stability both in the bumps and in the air. Progressive, smooth KYB suspension continues to absorb big impacts and the braking performance is now improved.

WR450F is designed to appeal to those born to ride from professional enduro riders to super capable trail riders.

*Model sold with full ADR equipment fitted as standard.

FEATURES
MORE POWERFUL & COMPACT NEW 450CC ENGINE
Already renowned for its enormous power output, the WR450F engine has been thoroughly redesigned to deliver stronger and more controllable performance. The engine is essentially the new generation YZ450F tuned with enduro settings - which means its significantly more compact and lighter than the previous generation engine. The revised configuration enhances the bike's mass centralised design to make it one of the easiest-handling large capacity enduro machines. Featuring increased compression ratio up from 12.8:1 to 13:1 the reverse cylinder head also runs a durable forged piston and aggressive cam profiles. New intake/exhaust systems and ECU run WRF specific settings to deliver the best balance of race-winning performance together with ultimate controllability for tight trails.

NEW LIGHTER CYLINDER HEAD
The new cylinder head weighs 310g less than before and is significantly more compact. Because this innovative design is positioned close to the bike's mid-section it helps to achieve an idealised mass centralisation, and this contributes enormously towards the WR450F's dynamic handling characteristics. The intake/exhaust valve angles and intake port design are changed and a new piston with a small recess is specified to create a more concave combustion chamber for increased power. This new high-efficiency head with its long and straight inlet, produces a fine balance of power with exceptional controllability.

SMARTPHONE TUNING
In 2019 the WR450F became the first enduro bike with inbuilt connectivity featuring remote wireless tuning using a smartphone. Now the 2022 model continues to lead the field in digital technology. By downloading the free Power Tuner app for IOS or Android devices, WR450F riders can easily adjust the fuel/air mix and ignition timing to set the bike up for different riding conditions. This feature makes the WR450F the most adaptable enduro machine and one that can be tuned instantly on the trail, allowing riders to make the most of a wide range of surfaces and weather conditions. In addition to its engine re-mapping function, the Power Tuner app can also record information and monitor a range of data, including system diagnosis, engine run time and more, making it an indispensable part of every rider's toolkit.

HANDLEBAR-MOUNTED MAP SWITCH
The WR450F features a handlebar-mounted mapping switch (blue button) that enables the rider to select one of two power maps on the fly. This simple adjustment allows instant engine delivery changes to suit variable terrain or weather conditions. For example, from an aggressive map for fast dry conditions to a high traction map for slippery hillclimbs.

COMPACT ELECTRIC STARTER
The new 450 engine is equipped with a compact and lightweight electric starter that gives push-button convenience for hassle-free starts especially useful on the side of a hill.

ADVANCED FUEL INJECTION SYSTEM
The compact new engine is equipped with a highly advanced Mikuni fuel injection system that features a light and ultra-compact 44mm throttle body. Delivering the fuel/air mix via a long and straight forward facing inlet, this advanced fuel injection system benefits from a high pressure electric pump that ensures optimum atomisation for excellent running performance in a wide range of riding conditions.

HIGH EFFICIENCY ANGLED RADIATORS
To ensure that the new more powerful engine runs efficiently in all conditions, Yamaha's engineers have developed radiators that are angled to directly face the incoming air. By maintaining a consistent airflow, this angled radiator layout delivers effective engine cooling for winning performance. A thermo fan cuts in to keep the fluid cool when the going gets tough.

TOUGHER WIDE RATIO 5-SPEED TRANSMISSION
The WR450F's robust 5-speed transmission is built to handle even the most aggressive left foot. The specially-developed gears feature a large surface area that spread the load, and third and fourth have received a surface treatment to increase durability. In addition, the shift drum and selectors now give improved feel and a shorter stroke when shifting gear. Ratios are ideal for enduro riding with lower gearing from first to third gear and taller-geared fifth compared to YZ450F.

MASS-CENTRALISED WRAPAROUND EXHAUST
A key feature of the WR450F is its mass centralised design, in which major components are located as close to the bike's centre of gravity as possible. One example of this is the wraparound exhaust that snakes around the cylinder - this design also enables the fitment of a muffler that is mounted close to the bike's centre. The WR450F runs a YZ450F exhaust with WRF specific muffler to achieve the goal of increased power with control. Combined with the rearward-slanted cylinder, the exhaust centralises mass and contributes significantly towards lightweight and dynamic handling performance.

NEW LIGHTER ALUMINIUM FRAME FOR SHRPER HANDLING
The WR450F uses the same bilateral beam frame created with controlled fill technology as the flagship YZ450F motocross bikes. But the chassis is tuned for enduro use with WR specific engine mount brackets. Our designers carefully retuned the compact YZ aluminium frame to match the more powerful engine. To reduce weight and fine tune the bike's instinctive handling performance, the new bilateral frame features thinner main spars together with thicker bottom tubes. In order to achieve the balance of rigidity and flex for enduro riding, the shape and bolt tightening settings of the front and rear engine mount brackets have been revised. The combination of these measures offers an improved feeling of connectivity to the ground, clear feedback from the riding surface when going over bumps and light handling.

REVISED RIDIGITY FRONT END
In order to improve the front end feeling, the rigidity balance has been revised on the top triple clamp, front wheel axle and bar mounts. These items have been redesigned to be lighter yet stronger to offer a better front end feel and the bars are moved 15mm further forward and 5mm lower to help the rider get over the front end in order to improve grip and steering.

INDUSTRY-LEADING SUSPENSION
The WR450F is equipped with fully adjustable coil spring twin chamber KYB forks from the YZ450F that are widely regarded as being the ultimate in off-road suspension. Featuring enduro settings and speed sensitive damping that gives the idealised balance between handling and bump absorption, these exceptional front forks deliver best-in-class performance. The fully-adjustable link-type rear end settings are also revised to match the new frame and front end. The setup features a specially tuned KYB shock absorber that delivers high levels of traction together with smooth suspension action at low and high speeds, giving exceptional handling in a range of track conditions.

STRONGER BRAKING PERFORMANCE
Braking performance has been improved by running the YZ450F setup. This gives the brakes strong braking force and controllability in response to rider input. The caliper pistons are now larger - 25.4 mm - while revisions to the caliper body increase rigidity by 30 per cent. New brake pads generating consistent friction were incorporated and the brake pad surface area increased by 25 per cent. Changes in the shape of the front rotor stay have increased the pad contact surface area by 16 per cent without any increases in weight.

NEW COMPACT INSTRUMENT DISPLAY
A slimmer and more compact multifunction display is specified for the WR450F. The display features an odometer, two tripmeters, a clock, timer/stopwatch and a new and very useful fuel consumption indicator, while low fuel and engine warning lights are now built into the display. This increases their visibility and makes for a neater area around the instruments. The layout of the display has also been redesigned, with a higher-contrast liquid crystal display and white background ensuring improved readability.

NEW LIGHTER FOOTPEGS
Footpeg weight has been reduced by approximately 70g by changing from stainless steel to the chromoly steel pegs also specced on the 2020 YZ450F.

TECH SPECS
ENGINE
| | |
| --- | --- |
| Engine Type | Liquid-cooled, 4-stroke, DOHC, 4-valve |
| Displacement (cc) | 450.0 |
| Bore x Stroke (mm) | 97.0 x 60.8 |
| Compression Ratio | 13.0 : 1 |
| Lubrication System | Wet sump |
| Fuel Management | Fuel Injection |
| Ignition | TCI |
| Starter System | Electric |
| Fuel Tank Capacity (L) | 7.9 |
| Final Transmission | Chain |
| Transmission | Constant mesh 5-speed |
CHASSIS
| | |
| --- | --- |
| Frame Type | Bilateral beam |
| Suspension Front | Telescopic forks, 310mm travel |
| Suspension Rear | Swingarm (link suspension), 318mm travel |
| Brakes Front | Hydraulic single disc, 270mm |
| Brakes Rear | Hydraulic single disc, 245mm |
| Tyres Front | 90/90-21 Metzeler Six Days Extreme |
| Tyres Rear | 130/90-18 Metzeler Six Days Extreme |
DIMENSIONS
| | |
| --- | --- |
| Length (mm) | 2175 |
| Width (mm) | 825 |
| Height (mm) | 1270 |
| Seat Height (mm) | 955 |
| Wheelbase (mm) | 1480 |
| Ground Clearance (mm) | 320 |
| Wet Weight (kg) | 119 |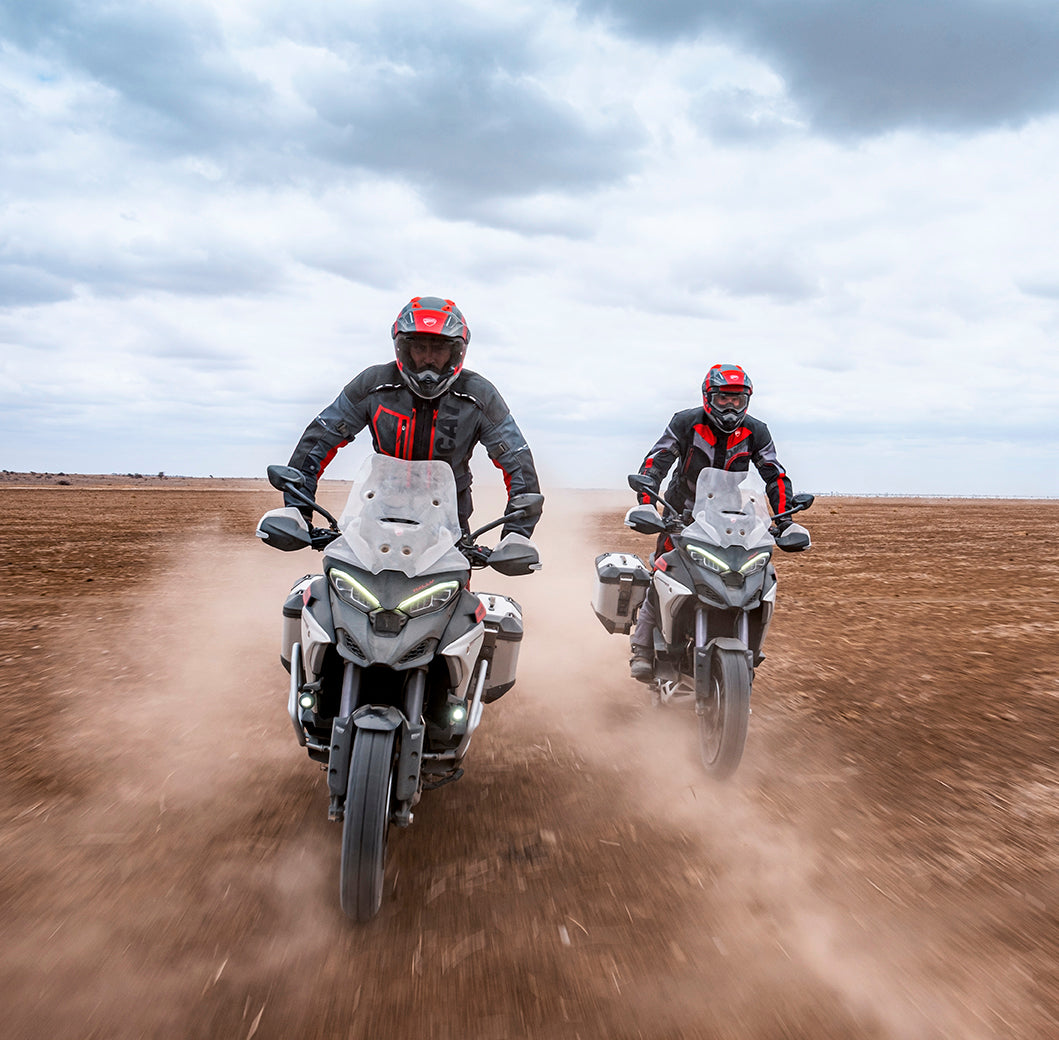 NEED SOME ASSISTANCE?
Cant find what you're looking for?
Lets us know and we can provide you with all the details