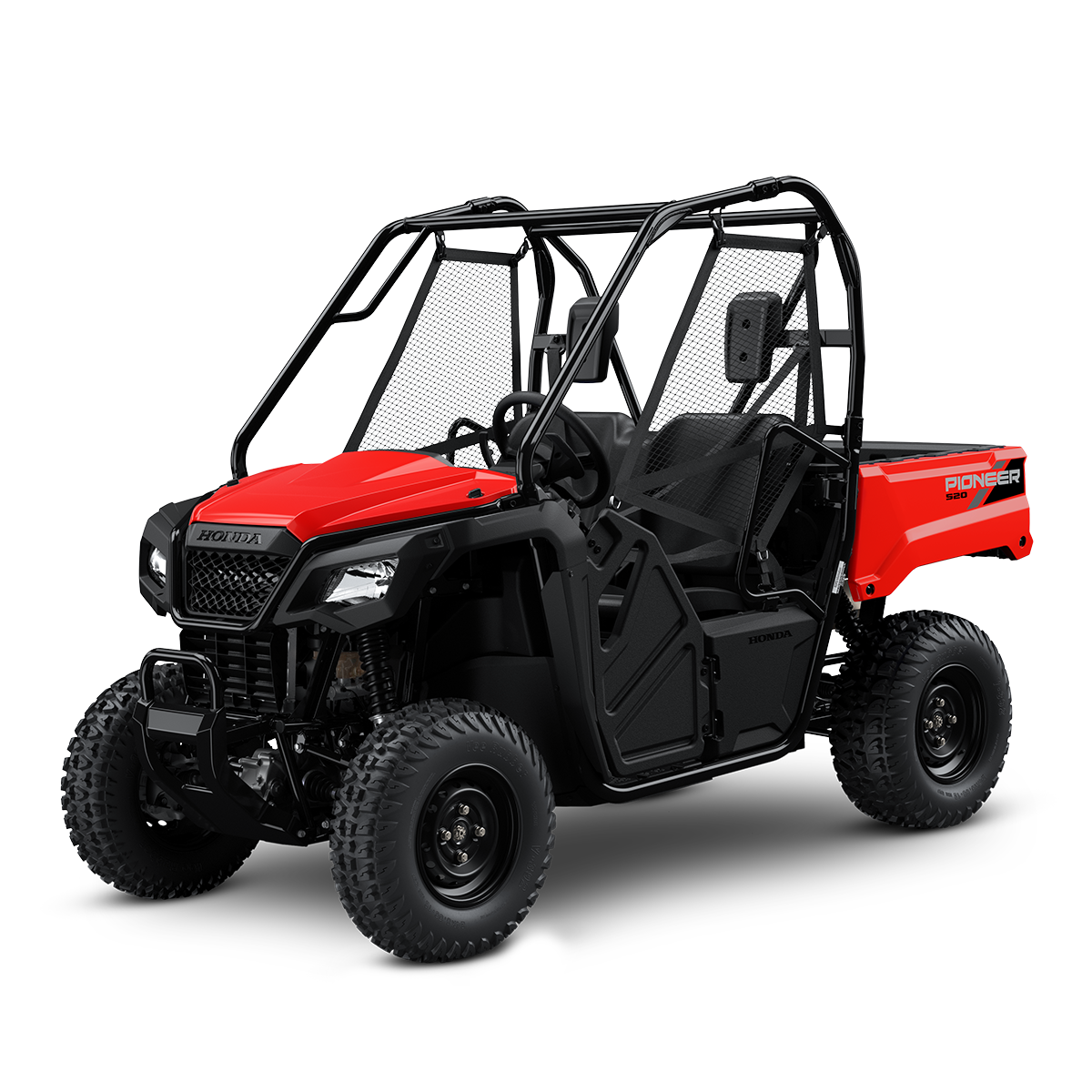 HONDA PIONEER 520
Sale price
From
$19,404.00
RIDE AWAY PRICE*
Looking for availability of this bike, trade-in or finance options?
Leave us a text
This brand is sold at the following dealerships:
Please contact us for availability of specific models.
*
Advertised 'Ride Away Price' includes on road costs and is subject to change. Overseas models may be shown with accessories that are not standard fitment. Fraser Motorcycles reserves the right to vary colours, specifications & pricing at any time.
GO AHEAD, LOAD IT UP
Honda's new Pioneer 520 is going to be the perfect choice for thousands of owners. Why? its overall size makes it incredibly versatile. It comfortably seats two and can easily be loaded up making transportation between locations easy. The biggest news for the 2021 Pioneer 520 is its new more powerful 518cc engine and a strut-assist tilt tray. You also get features like our Honda automatic transmission with AT/MT modes, and selectable two- or four-wheel drive. The new Pioneer 520 is your go-to side-by-side that punches well above its size and weight.

HIGHLIGHTS

Automatic electronic shift transmission

Compact size, ideal for tight terrain

TaxLok 2WD/4WD system

Direct drive with longitudinal engine mounting

Adjustable front and rear suspensions
HARD WORKING
Factory fitted tilt tray

AUTOMATIC OR MANUAL SHIFT
To suit a wide variety of needs

POWERFUL FUEL INJECTED ENGINE
It'll get you there and get you home

SELECTABLE 2WD/4WD
Traction when you need it

CONVENIENCE
COMPACT 127CM WIDTH
The Pioneer 520's 127cm overall width is a huge bonus. Whether it's for width-restricted trails or convenient transportation and storage, the Pioneer 520 can go where just about no other side-by-side can!

NEW TILT TRAY
The new Pioneer 520 now features a super-convenient tilt tray. Measuring 98.3cm wide, 65.7cm long, and 24.8cm high can carry up to 204Kg. An assist strut makes dumping easy, the tailgate opens flat, and inside the bed is set up for plywood dividers or to hold milk crates or plastic buckets. It also accommodates our line of Honda Pro-Connect system accessories.

HEADLIGHTS
35-watt headlights provide clean, crisp light to get you through any adventure, day or night.

HARD ROOF & TOW HITCH PLUS TOWBALL
Providing outstanding weather protection. It is designed to fit over the cabin utilising Honda's Tool-Less clamping system for quick installation & removal. Compatible with all Honda Accessory windscreens. Tow hitch and ball are also standard.

SIDE-BY-SIDE SEATING
With a comfortable bench-style seat, individual backrests and seatbelts for both rider and passenger, the Pioneer 520 offers side-by-side comfort and excellent manoeuvrability.

DRIVER & PASSENGER PROTECTION
The Pioneer 520 is loaded with features to help provide a feeling of security for the driver and passengers. The Occupant Protection Structure uses sturdy, large-diameter tubing, and includes integrated handholds, recessed top tubes and a more spacious structure to enhance protection; it also meets OSHA's 1928.53 rollover protective structure standard. Hard doors and roll-up side nets provide a secure feel and keep mud and debris out of the cabin, while automotive-style three-point belts with an Emergency Locking Retractor mechanism help keep everyone secure.

DIGITAL DISPLAY
The multi-function digital dash display is full of the information you want. In addition to the standard gear position indicator, speedometer, odometer, trip meter, and hour meter you get readouts for fuel level, clock, coolant temperature and Honda's "maintenance minder" system.

SINGLE-FUNCTION DOOR NET
The Pioneer 520 comes standard with doors, and the occupant net is directly attached just unlock and open the door, and the net automatically swings aside making entry and exit easier.

PERFORMANCE
POWERFUL, NEW ENGINE
With a new engine bigger and more powerful than our previous Pioneer 500, the new Pioneer 520 also features electronic fuel injection for effortless cold-weather operation. The engine is specially tuned for low-rpm torque, too. Coupled with an efficient five-speed automatic transmission, you'll have plenty of pulling power.

CLOSED-LOOP FUEL INJECTION
Better cold-weather running, effortless startups, great fuel efficiency, and less pollution that's what the Pioneer 520's closed loop fuel-injection system means for you. And that's what we call a win/win situation.

453KG TOWING CAPACITY
The Pioneer 520 has a heavy-duty receiver-style hitch and 453Kg towing capacity.

LONGITUDINAL ENGINE MOUNTING
The Pioneer 520 is built around our strong, single-cylinder, 518cc longitudinal engine. By orienting the crankshaft front to back in the chassis, we route the flow of power straight to the wheels without any right-angle detours, reducing powertrain friction and putting more grunt to the ground.

AUTOMATIC TRANSMISSION WITH AT/MT MODE
You can let the Honda Pioneer 520's automatic transmission shift for you, or you can still shift yourself with its paddle shifters. You can even shift from auto to manual (AT to MT) on the fly!
HANDLING
STRONG GEARBOX
Unlike the belt-drive automatics out there, the Pioneer 520 features an AT/MT mode transmission that uses rugged, steel gears. You get true compression braking for superior controllability (especially when descending hills), as well as long transmission life.

DUAL RATE SPRINGS
Sure, all springs may look alike, but the Pioneer 520 features dual-rate springs, and after one ride, you'll feel the difference. You get a smoother ride over smaller bumps with more bottoming resistance on bigger bumps, along with a more confident steering feel.

NEW SHIFT MAPPING
To complement the new engine, we also gave the Pioneer 520 its own new mapping. You'll see how the shifts are smooth, and the torque keeps flowing seamlessly, thanks to new clutch engagement specs. All in all, it adds up to an even better ride for you.

PADDLE SHIFTERS
If you want to shift manually, simply upshift and downshift without ever having to take your hands off the wheel. You get to choose the exact gear you want and it's engineered for precise, smooth shifts.

INDEPENDENT FRONT & REAR SUSPENSION
The Pioneer 520's independent, long-travel front and rear suspension provides excellent ground clearance that all work together to deliver superior ride comfort and superb traction, especially over rough terrain.

TRAXLOK 2WD & 4WD
Our rock-solid system lets you choose either 2WD or 4WD, giving you the freedom to choose between lighter steering (in 2WD) and maximizing available traction (in 4WD) when you need it most.

TECH SPECS
CHASSIS

| | |
| --- | --- |
| Brakes | |
| Brakes (F) | 2x 200mm discs |
| Brakes (R) | 1x 170mm disc |
| Steering | |
| Power Steering | - |
| Suspension | |
| Front Adjustability | Preload |
| Front Suspension Type | Independent double-wishbone |
| Front Wheel Travel (mm) | 147 |
| Rear Adjustability | Preload |
| Rear Suspension Type | Independent double-wishbone |
| Rear Wheel Travel (mm) | 150 |
DIMENSION, WEIGHTS & CAPACITIES
| | |
| --- | --- |
| Capacities | |
| Fuel Capacity (L) | 15.4 |
| Dimensions | |
| Bed Dumping Angle | - |
| Turning Radius (m) | 3.9 |
| Wheelbase (mm) | 1,855 |
| Bed Height (mm) | 249 |
| Bed Length (mm) | 658 |
| Bed Width (mm) | 983 |
| Ground Clearance (mm) | 217 |
| Overall Height (mm) | 1,809 |
| Overall Length (mm) | 2,668 |
| Overall Width (mm) | 1,270 |
| Seat Height (mm) | 703 |
| Weights | |
| Bed/Tray Weight Capacity (kg) | 204 |
| Kerb Weight (kg) | 482 |
| Max Weight Capacity (kg) | 400 |
| Towing Capacity (kg) | 454 |
POWERTRAIN
| | |
| --- | --- |
| Engine | |
| Bore & Stroke (mm) | 96 x 71.5 |
| Compression Ratio | 9.5:1 |
| Cylinders | 1 |
| Displacement (cc) | 518 |
| Engine Type | Liquid-cooled 4-stroke |
| Fuel System | Fuel Injection |
| Starter | Electricξ |
| Valves | 2 |
| Transmission | |
| Drive Modes | 2WD, 4WD |
| Transmission | 5-speed with reverse; manual and automatic modes |
| Drive | Shaft |

TYRES & WHEELS

| | |
| --- | --- |
| Tyres | |
| Tyres (F) | 24x8-12 |
| Tyres (R) | 24x10-12 |

WARRANTY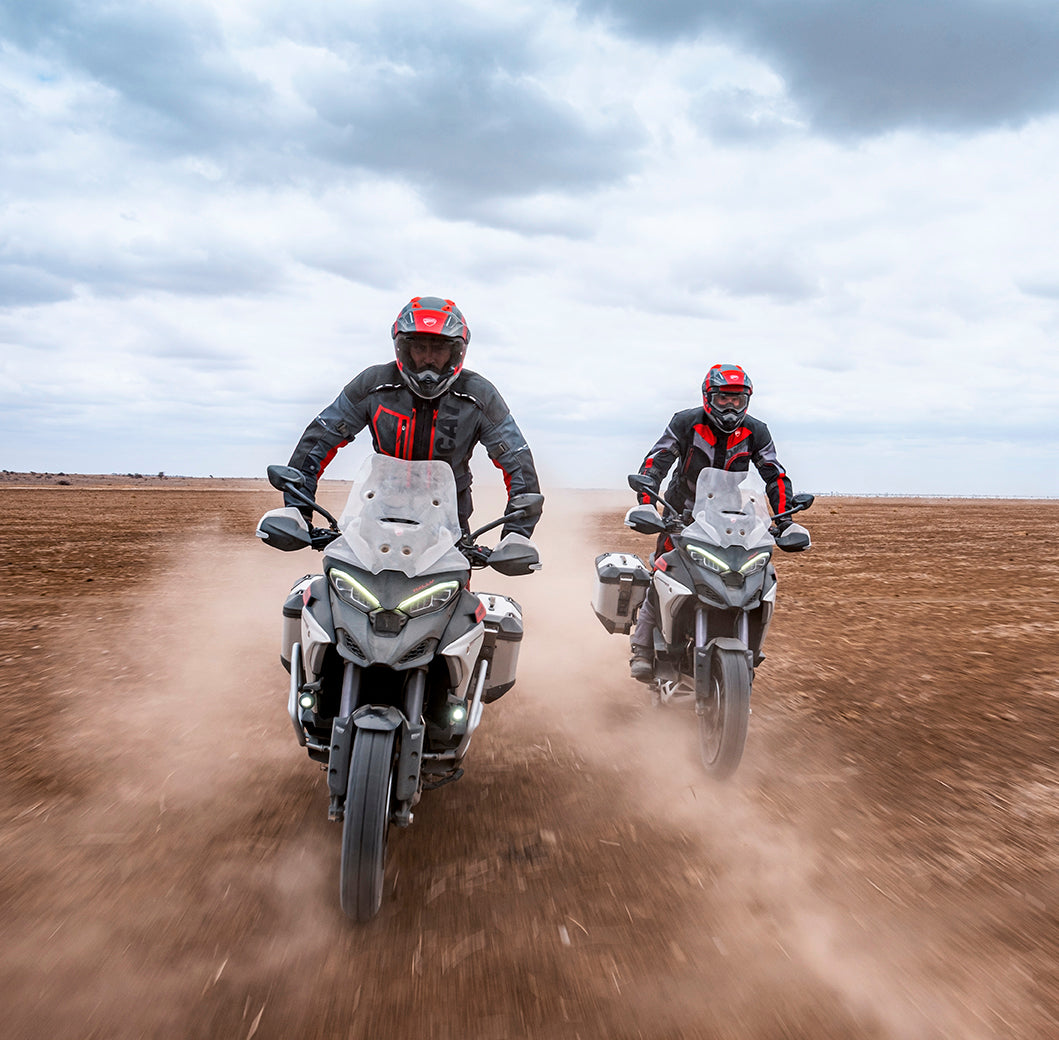 NEED SOME ASSISTANCE?
Cant find what you're looking for?
Lets us know and we can provide you with all the details