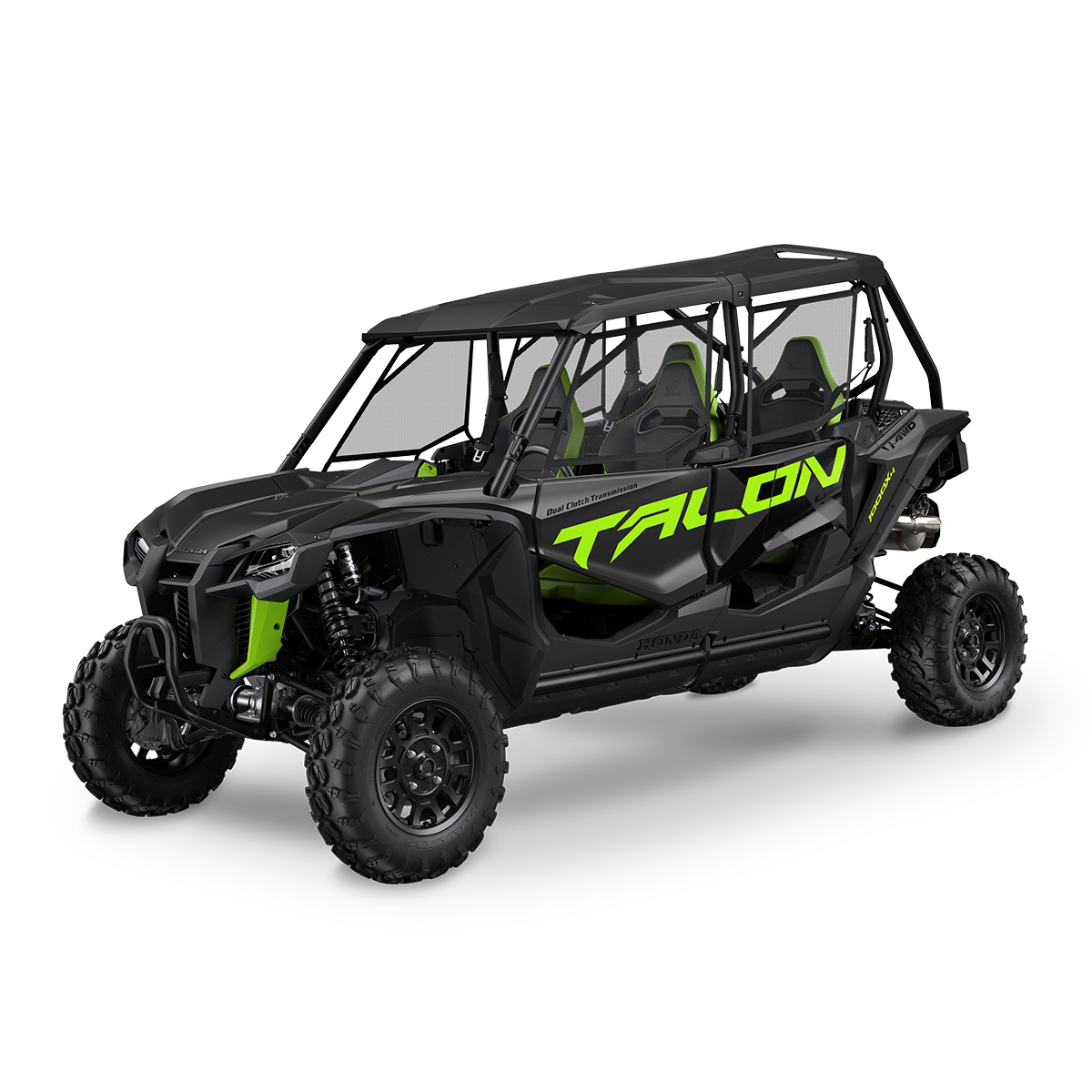 HONDA TALON SXS1000S4X
Sale price
From
$49,298.00
RIDE AWAY PRICE*
Color:
Pearl Specter White
Looking for availability of this bike, trade-in or finance options?
Leave us a text
This brand is sold at the following dealerships:
Please contact us for availability of specific models.
*
Advertised 'Ride Away Price' includes on road costs and is subject to change. Overseas models may be shown with accessories that are not standard fitment. Fraser Motorcycles reserves the right to vary colours, specifications & pricing at any time.
THE ULTIMATE THRILL RIDE
Are you ready for a Sport SXS that's designed for high speeds and open terrain, chock-full of technical innovation and legendary quality no other brand can boast? Look no further than the Honda Talon, the minute you buckle in, you'll be amazed. With 6 options available 4 two seat models- and two -four-seat models probably the most anticipated sport side-by-sides ever. They all share the same powerful, Talon-specific high-output engine, quick-shifting Automatic DCT Transmission, and exclusive i-4WD technology. Rider comfort? Nobody does it like Honda. Performance? We've built our reputation on it.
HIGHLIGHTS

4 seats, with rear stadium seating

Powerful 999cc twin-cylinder engine

Automatic dual clutch transmission (DCT)

i-4WD system

Quick Switch 3 (QS3) adjustable suspension
HIGH REVVING HORSEPOWER
999cc Twin-Cylinder Engine

SUPERIOR HANDLING
Fox Podium QS3 premium suspension

TECHNOLOGICALLY ADVANCED
Auto 6-speed DCT Transmission with Honda's exclusive i-4WD system

SHARE THE FUN
Two and four-seater options

PERFORMANCE
HIGH-FLOW FUEL INJECTORS
Here's a math lesson that's anything but boring: More air plus more fuel equals more power. With the hot cam, throttle body and high-flow fuel injectors, the Talon's engine is the total package for total off-road performance.

46MM THROTTLE BORE SIZE
Complementing the Talon's potent camshaft specs, our engineers also gave the engine twin 46mm bores for more airflow and better breathing. You'll feel it the first time you floor the throttle, and you'll hear it too, with the Talon's throaty intake roar.

POWERFUL 999CC TWIN-CYLINDER ENGINE
Sport side-by-sides need power, and you're sure to find the Talon 1000's all offer plenty of it. The Talon's 999cc liquid-cooled inline twin delivers the kind of powerful torque and quick-revving horsepower you'd expect from a flagship sport model, but is equally responsive in lower revs and in the critical midrange too. Set longitudinally in the chassis and managed by Honda's sophisticated PGM-FI engine-mapping system, it delivers the kind of refinement no other side-by-side can match. The Talon's 999cc liquid-cooled inline twin uses the same proven UnicamÎ cylinder head design found in our championship-winning CRF450R motocrosser. That helps make the engine more compact, which lets us position it for optimal weight distribution and ground clearance.

RUBBER-MOUNT ENGINE & EXHAUST
Some of the most impressive Talon features are those you'll never see. In addition to the suspension and ground clearance, we rubber-mounted the engine and exhaust system to insulate the cabin against excessive vibration We also gave them four engine mounts to add strength under high-performance driving operation.

HIGH-CAPACITY COOLING SYSTEM
Rock crawling, deserts, dunes, and high-altitude operation can all challenge your side-by-side's cooling system. That's why we gave all our Talons a high-capacity system. Tested under some of the most arduous conditions we could find, you can rest assured your engine will remain calm, and collected when the going gets tough.

HIGH LIFT, LONG DURATION CAMSHAFT
Giving the Talon's engine a camshaft with high lift and long duration helps transform the engine. Better breathing helps the Talon make more power, and keeps that power coming all the way to redline.

OIL-JET-COOLED PISTONS
Another invisible example of Honda's race-winning engineering. Squirting oil up onto the underside of the Talon's pistons help them run cooler and seal better. The combination lets the pistons lead an easier life and helps the engine make more power. The design also lets us use lighter pistons, for a faster-revving engine.

TUNED EXHAUST
The final part of the Talon's balanced power equation: better breathing and more fuel delivery require an equally tuned exhaust system. The Talon delivers. Not only does it deliver some beautiful mechanical music, but it helps the engine deliver smooth, even power from partial throttle to wide-open running.

ENGINEERING
AUTOMATIC SIX-SPEED DUAL CLUTCH TRANSMISSION (DCT)
The convenience of an automatic with the strength, control, and efficiency of a manual, Honda's DCT lets you drive the way you want. Choose between manual mode or fully automatic. Plus, the addition of Sport Mode increases the fun, shifting at higher RPMs for a spirited, full-performance driving experience. DCT puts you in control as to what engine speed you want, and what gear ratio. Or you can let it do all the thinking for you. In addition, you also get genuine compression braking and a more efficient power delivery than a belt-driven CVT. The Talon's positive automatic DCT gearbox gives you a far more connected feel with your side-by-side. The brain of the DCT, Advanced Transmission Logic, senses how you drive and adapts. Relaxed drivers get earlier shifts for a quieter ride at lower engine speeds. Sportier drivers will hold each gear longer for higher RPM shifts. And when going downhill, you get true engine braking. Now that's a smart transmission.

I-4WD
The Talons showcase the second generation of our exclusive i-4WD system, specifically tuned to respond quicker and capable of delivering even more drive force. Think i for intelligent, because that's exactly what it is. An industry-first brake-traction control system for side-by-sides, it simplifies operation, increases drivability and optimizes traction. Using proven, advanced technology from Honda's automotive division, you get the benefits associated with a locked front differential with none of the downsides. That means it maintains front-wheel traction even if one wheel wants to spin on ice or mud or if it's in a hole. But at the same time, you get the lighter steering, better tracking at high speeds, tighter turning radius, and reduced kickback associated with unlocked front differentials. Special software tunes the i-4WD system for sport use.

LAUNCH MODE
The Talon 1000X-4 FOX Live Valve is the only side-by-side with both an automatic transmission and a launch mode which is really easy to use: Just hold down the brake, press the Launch Mode switch, hold both paddle shifters back, floor the gas pedal, and release the paddles. Hold on tight, because you're going to be feeling serious acceleration. The DCT automatically shifts up too, so you keep going through all the gears. Launch mode even features a special yaw control, so you launch straight and true.

ELECTRIC POWER STEERING
Standard equipment on all Talon models, our Electric Power Steering system helps eliminate bump steer through rocky and rutted terrain, which reduces fatigue. What makes it even better is the added assist you get when you need it most, like when you're in 4WD, driving at lower speeds, or manoeuvring over rough conditions. Plus, the system is specially tuned to give you the right amount of feedback for sport-driving.

PADDLE SHIFTING
Steering column-mounted paddle shifters add a serious dose of performance in every drive. In Manual mode, they let you shift without ever taking your hands off the steering wheel, and in Automatic mode, they let you override the current gear with a quick up or downshift, holding that gear for several seconds before returning to Automatic mode.

HILL START ASSIST
Need to stop on an uphill? Honda's Hill Start Assist automatically holds your Talons in position while you move your foot from the brake pedal to the accelerator there's no roll-back drama. It even works on the downhills, too!

2WD/4WD SHIFT ON THE FLY
Want to access as much traction as possible? Put it in i-4WD. Need maximum power at all four wheels? i-4WD eliminates the need for traditional locking differentials. Want to use 2WD for lighter steering or specific terrain? The Talons let you do it all, and the best part is, you can do it all with the push of a button.

RELENTLESS DURABILITY
When it comes to strength and toughness, the Talons lead the way. The oversized 87mm CV joints, beefy 39.7mm prop shafts and strong U-joints are all built to survive the loads that low-speed rock crawling can generate and which cause driveline failures in so many other side-by-sides.

HANDLING
THAT PREMIUM HONDA FEEL
The Talon's refined, high-performance chassis forms the basis for its superior handling and stability. From there we add long-travel independent front and rear suspension and generous ground clearance. Each of the different models offer varying suspension options.

FOX QS3 SHOCKS
All of the Talon models offer premium, FOX Podium shocks! The Talon 1000R has 2.5 shocks front and rear with QS3 quick adjustors on all four corners. The Talon 1000X and 4-seater 1000X models boast 2.0 shocks up front and 2.5 shocks out back (with QS3 quick adjustors on all four corners) while the Talon 1000X-4 FOX Live Valve showcases our new FOX Live Valve suspension with 2.5 shocks front and rear.

INDEPENDENT FRONT SUSPENSION
All Talon models offer dual A-arm suspension which gives you 450mm (365.76mm - FOX Live Valve) of travel in the front. Pair that with stellar ground clearance and you begin to understand two reasons why the Talons handle so well and are so comfortable in rough terrain.

TALON 1000R: 4+ LINK REAR SUSPENSION
On the Talon 1000R, Honda's 4+ link rear suspension is one of the secrets to its superior handling. Controlling wheel geometry is difficult with so much travel, but with the Talon 1000R's suspension, even with 508mm of travel, the rear-wheels' toe varies only 0.3 degree throughout entire stroke for better chassis stability under extreme suspension deflection.

TALON 1000X S & 4-SEATER SUSPENSION
On the Talon Xs, Honda's 3-link trailing-arm rear suspension is one of the secrets to their superior handling. All 3 of the Talon 1000X's (2 and 4-seater models) feature 383mm of rear-wheel travel for a smooth ride and superior control.

WIDE WHEELBASE
The Talon's wheelbase gives a super smooth ride, plus excellent control in whoops and through rough terrain. The Talon 1000R runs a 2,355mm wheelbase, the Talon 1000X a 2,226mm and the 4-seater's offer a 2,956.56mm wheelbase.

FOX LIVE-VALVE 2.5 SHOCKS
Only available on the Talon 1000X-4 FOX Live Valve, these shocks incorporate FOX's automatically-adjusting Live Valve technology. The shocks are constantly changing their compression damping (each shock independently, in real time). You get less roll in corners, a smoother ride through whoops and more resistance to bottoming a deluxe ride overall.

HIGH-PERFORMANCE DISC BRAKES
A high-performance side-by-side needs high-performance brakes. The Talon's power, chassis and suspension travel helps take these side-by-sides to the next level. Front and rear they feature 250mm discs, with 34mm twin-piston callipers in front and 34mm single-piston callipers in the rear. Electronic Brakeforce Distribution (EBD) optimizes front and rear braking power under dynamic chassis conditions in two-wheel drive.

DESIGN
SKID PLATES
Off-road driving is a tough pursuit, and Mother Nature can be harsh. Not to worry we have your Talons covered. Literally. Generous skid protection armours vulnerable undercarriage and suspension components.

FRONT BUMPER
Here's something you can see and experience for yourself. The Talon's standard front bumper offers a degree of vehicle protection some other side-by-sides lack. This smart design doesn't compromise performance, because it's designed to slide smoothly over obstacles in rough approach conditions, enhancing off-road clearance and manoeuvrability while still offering good protection.

ACCESSORY CHARGING SOCKETS
Need to charge up a phone or nav system while you're on the go? No problem: we gave the Talons two dedicated 12-volt charging ports, one located in the front and the other for rear-seat passengers.

DRIVER & PASSENGER PROCTECTION
The Talon's Occupant Protection Structure uses large-diameter tubing, and meets ROHVA's rollover protection standard. The standard-equipment hard doors and quick-clip side nets help keep debris from entering the cabin. Auto-style three-point seatbelts are equipped with an emergency locking retractor mechanism, to help optimize passenger security. (The Talon seats are also four-point compatible for competition use.)

PAINTED BODY
Why paint and not colour-moulded plastic? Because the Talon's painted body parts resist scratching better, and we know that where you're going to be driving this side-by-side, you won't want to slow down for a little brush by the side of the trail. Plus, they just look better the first time you see a new Talon in person, we're sure you'll agree.

PAINTED FRAME & R.O.P.S
The Talon 1000X-4 FOX Live Valve features a special colour-matched painted frame and Roll-Over Protection Structure that set it apart visually and help make this new side-by-side stand out wherever you go.

RECOVERY HOOK POINT
Built in to the Talon's chassis design, this attaching point makes it easy to secure your Talon for transport, and also makes it easy to hook up a recovery strap when your buddy with some other brand of side-by-side gets stuck. Make them buy you lunch as a payback.

FRONT & REAR WEIGHT BALANCE
Exhaustive testing shows that for serious sport driving, a slight rear weight bias is best. That's why we set the Talons up with 44 percent of their weight over the front, and 56 percent over the rear. Uphill, downhill, over whoops and in g-outs, the Talon just flat-out works.

TECH SPECS
CHASSIS

Brakes

Brakes (F)

2x 250mm discs

Brakes (R)

2x

ξ

250mm discs

Suspension

Front Adjustability

Dampingξ

Front Suspension Type

Double wishbone

Front Wheel Travel (mm)

370

Rear Adjustability

Dampingξ

Rear Suspension Type

3 Link trailing arm

Rear Wheel Travel (mm)

381
DIMENSION, WEIGHTS & CAPACITIES
| | |
| --- | --- |
| Capacities | |
| Fuel Capacity (L) | 29 |
| Dimensions | |
| Turning Radius (m) | 6.5 |
| Wheelbase (mm) | 2,956 |
| Ground Clearance (mm) | 324 |
| Overall Height (mm) | 1,995 |
| Overall Length (mm) | 3,877 |
| Overall Width (mm) | 1,625 |
| Seat Height (mm) | 711 |
| Weights | |
| Kerb Weight (kg) | 787 |
POWERTRAIN
| | |
| --- | --- |
| Engine | |
| Bore & Stroke (mm) | 92 x 75.15 |
| Compression Ratio | 10:1 |
| Cylinders | Inline 2 |
| Displacement (cc) | 999 |
| Engine Type | Liquid-cooled 4-stroke |
| Fuel System | Fuel Injection |
| Starter | Electricξ |
| Valves | 8 |
| Transmission | |
| Drive Modes | 2WD, i-4WD |
| Transmission | DCT 6-speed with reverse |
| Drive | Shaft |

TYRES & WHEELS

| | |
| --- | --- |
| Tyres | |
| Tyres (F) | 28x9-15 |
| Tyres (R) | 28x11-15 |

WARRANTY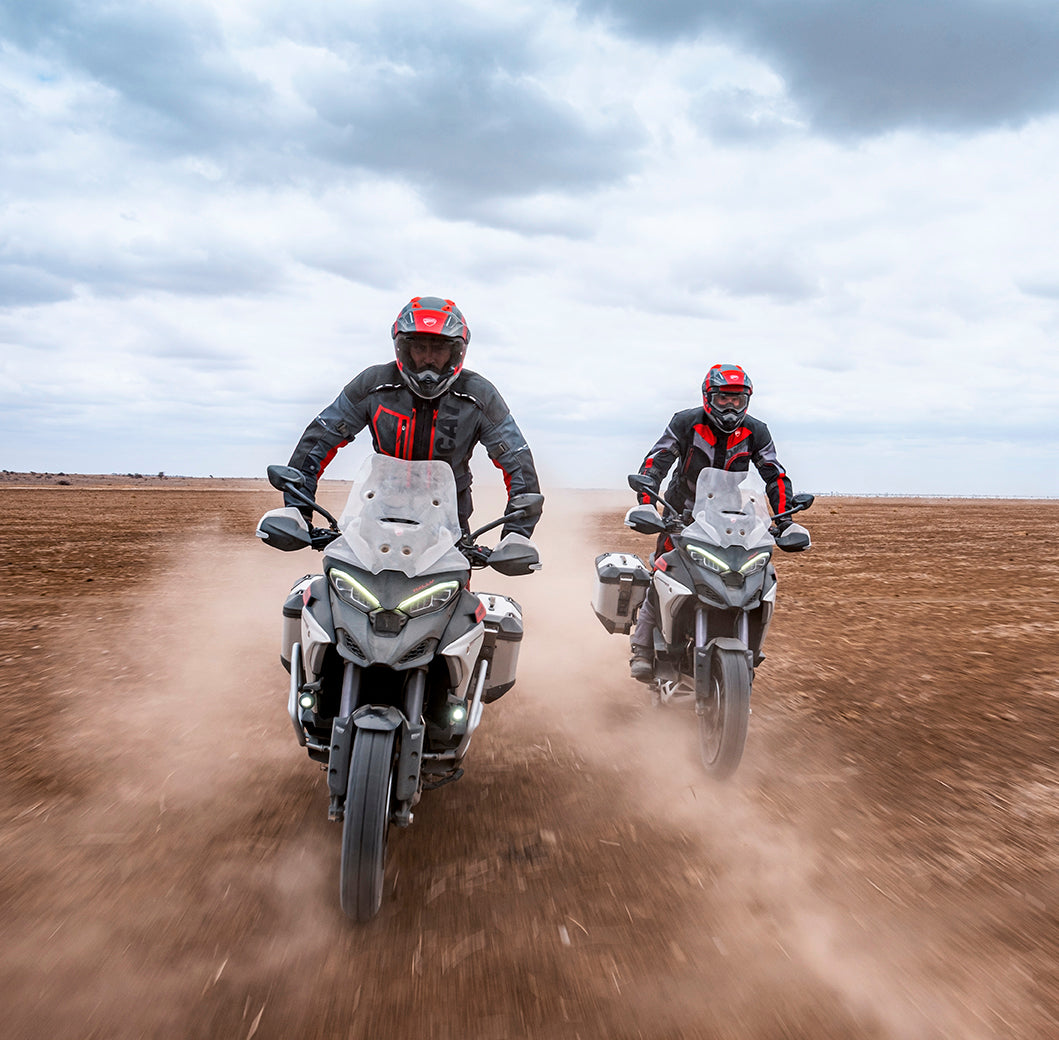 NEED SOME ASSISTANCE?
Cant find what you're looking for?
Lets us know and we can provide you with all the details